EMG Music
From Music Hack Day
[edit]
EMG Music
EMG music is a muscle controlled loop station, with which you can directly control and record several instruments, through muscle movements, to create a piece of music.
[edit]
Creators
Baldur Þorgilsson (KINE): Baldur brought KINE Live, an electromyography system, and customised it to send incredibly responsive OSC messages to a receiver of choice.
Ragnar Hrafnkelsson @ragnaringi: (Reactify): Created a Pure Data loop station/instrument patch, which takes the OSC messages and maps them to several musical parameters.
[edit]
About the Hack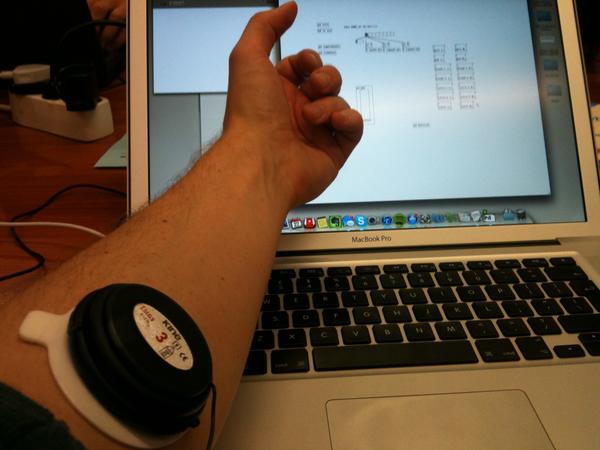 KineLive is an EMG (electromyography) system, which measures small voltages produced by muscle activity. For this hack we decided to take that information and try to map it to some musical parameters. After some experimentation with different muscle groups, we settled on using the shoulder to control pitch and wrists to trigger different actions.
The sensors are small wireless units that glued on to the surface of the skin, and after a while one forgets that they're even there, making it very easy and comfortable to work with.
The information from the sensors is picked up by a central unit, and processed in the Kine software. It has a freely available and well documented API, which allows users to use it for their own applications, and for this project we wrote a very simple addon to send the information out as OSC messages. These were then picked up by another computer, and piped into Pure Data, to process it and map to musical parameters. We created a little system which would record the output of a selected instrument into loop, and then let the user layer more on top. For this project we chose to use three instruments, a bass synth, lead synth and drum machine.
[edit]
Technology used
Pure Data. KineLive
Watch the demo presentation http://www.ustream.tv/channel/music-hack-day-reykjav%C3%ADk-2012 starting at 1:23:00
Youtube Demo: http://www.youtube.com/watch?v=_h7u3kT9lJg&feature=youtu.be