Wallify
From Music Hack Day
[edit]
Wallify - the Digital poster hack
Use case: Enter the name of your favorite artist, find a poster image you like and upload it to the poster for display.
Future possibilities: Load it up at a party and have it retrieve and display cover info for whatever you happen to be listening to at the time
[edit]
Creators
Becky Stewart @theleadingzero: Lead creator and programmer
Gummi A - Hakkavélin: Bug hunting, SocPup Management and mathematics support
Jason - Hakkavélin: SocPup technician, hardware support and idea fountain
[edit]
About the Hack
The Wallify Digital Poster is a low resolution display hacked together out of LED strips.
The strips have 32 individually addressable LEDs each, and the poster is 14 strips chained together.
The poster is connected to an Arduino Uno which sends out the digital signal for the LEDs.
[edit]
Technology used
[edit]
Hardware
14 RGB Led strips
1 Arduino Uno
1 standard coat rack
1 standard litre
blood sweat and tears
Assorted Molex connectors, aligator clip wires, breadboard, tape and supports (bamboo).
[edit]
Software
Arduino Scripts
Processing Scripts
The Echo Nest API
[edit]
Methods
The artist lookup uses The Echo nest API and receives a response with images associated with that artist.
The software uses Processing to pixelate the image and the Processing script then sends over USB serial to the Arduino the pixel values to display.
The Arduino script needs to address the pixels in the correct order, since the LED strips are connected together as one long strip. That long strip is then draped over the coat rack, so that every other strip is "upside down", in terms of the index. This means that the lower right corner starts at index 0, that strip increments upwards to index 31, but then the next strip to the left starts at the top at index 32 and increments downwards towards index 63, and so on.
Screenshot of Processing user interface: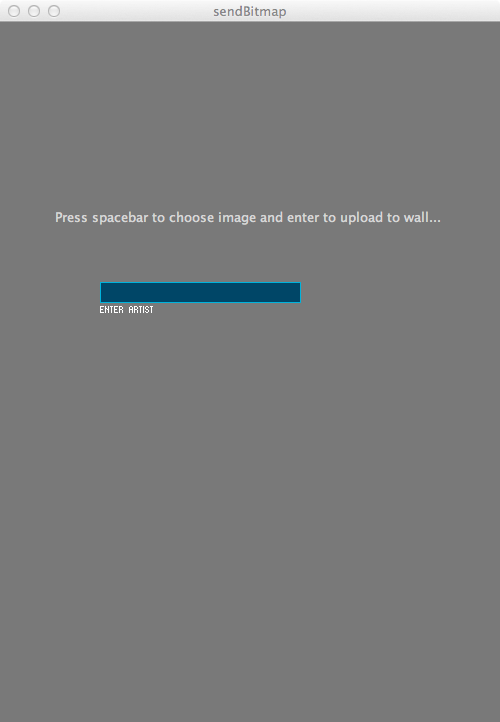 Software and hardware running side by side
Fully working:

Beta stage:
The demo presentation
http://www.ustream.tv/channel/music-hack-day-reykjav%C3%ADk-2012 starting at 28:30
[edit]
Source Code and Links